Sally Bishop
Travel Center Coordinator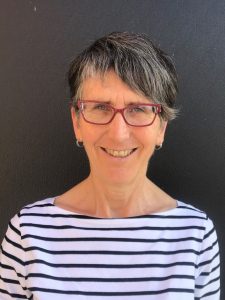 Sally Bishop grew up in a family that hosted exchange students and visitors from all over the world. Struck by a fascination with other cultures she had developed during her childhood, she eventually applied and was accepted to the American Field Service exchange program. The year she spent in Italy proved life-changing. Italy's people and culture immediately captured her imagination and heart, and even four decades later, she's still close to the family she lived with then. This experience cemented in Sally a belief in the power of cultural exchanges and has led her to fulfill a lifelong dream of establishing cultural exchanges with a high school in Italy.
Following Sally's year abroad, she attended Colorado College and lived and studied in France, earning a B.A. in romance languages. An avid cyclist, she worked in the bicycle industry after college and eventually led and designed cycling tours in Italy, France and Switzerland. When she was struck by the desire to teach, she came to Denver and earned a master's degree in Curriculum and Instruction from the University of Colorado–Denver.
Sally cycles to work most days and loves coming to work each day knowing how people of different backgrounds and perspectives both study and work here. She believes students have to know that what they are learning will actually be relevant in real life. Sally is passionate about travel and how it expands the mind and heart; cycling, particularly commuting and bicycle touring — using bicycles to actually get somewhere, not just for exercise; the health of the environment; social justice, especially as it relates to immigration; and film.
Email: sarah_bishop@dpsk12.org
Phone: 1-720-423-9015
Preferred Method of Contact: Email
---
Support Staff