Alexander Edwards
Special Education Teacher (mild/moderate)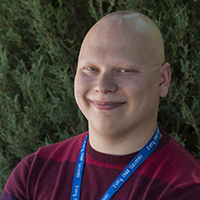 Email:
alexander_edwards@dpsk12.org
Phone:
1-720-423-9055
Department(s):
Special Education , Teachers
A Colorado native, Alexander Edwards earned his bachelor's degree in special education and history from the University of Colorado–Colorado Springs, with a minor in American Sign Language.
His dyslexia prevented him from learning to read until the third grade. Those challenges made him realize the hardships the world offers and taught him the power of perseverance. Alex believes that everyone can learn and says that his job is to help students in their exploration of knowledge and then help inspire an excitement and passion for learning.
Alex believes life is about action and that every action can influence the world around us. He particularly embraces Tikkun Olam, a Jewish concept defined by acts of kindness performed to perfect or repair the world.
When he's not teaching, Alex enjoys reading, listening to music, theatre, swing and blues dancing, role-playing games and improvisation.
Class & Office Hours – meet.google.com/lookup/dcisedwards
Advisement – meet.google.com/lookup/dcisdeguireedwards