Patrick Garvey
Social Studies Teacher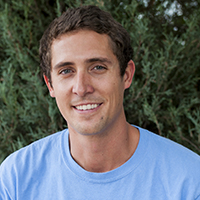 Email:
patrick_garvey@dpsk12.org
Phone:
1-720-423-9038
Department(s):
Social Studies , Teachers
Patrick Garvey has been teaching at DCIS since 2015. He teaches on-level 10th grade World History and 11th grade Passages. He grew up in Chicago, Illinois. He has wanted to be a teacher since he was 5 years old, when he (unsuccessfully) tried to teach math to stuffed animals in his basement.
He received his bachelor's degree in psychology and education from Marquette University. Afterward, he taught English courses in Santiago, Chile, throughout most of 2014. He was also honored to be part of the Fulbright-Hays Program, where he was lucky enough to spend a month traveling and learning in India. In addition, he has spent time in Mexico, Spain, Morocco, Greece, Denmark, the United Kingdom, Italy and Australia.
Aside from traveling, his hobbies include playing guitar, bass guitar and piano. He also enjoys hiking, reading, cooking, camping, snowboarding, live music and meditation.