Vanessa Zimmermann
Gifted & Talented Teacher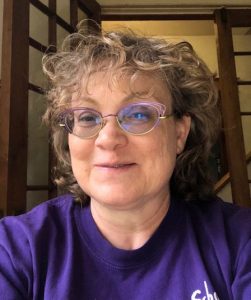 Email:
vanessa_zimmermann@dpsk12.org
Phone:
1-720-423-9028 (voicemail only)
Department(s):
Teachers
Vanessa Zimmermann has been working in Denver education circles and as a Gifted and Talented teacher for more than 20 years. She earned her master's degree from the University of Denver and holds a B.A. in English Literature from Southern Methodist University in Dallas, Texas.
As a high schooler, one of her greatest loves was high school theatre, and more than 30 years later, she is still celebrating theatre and supporting DPS's Shakespeare Festival. Some of that theatre enthusiasm has been channeled through Destination Imagination, where Vanessa has served as a manager, coordinator and appraiser for more than 15 years.
Having worked as a CSU master gardener since the 1990s, Vanessa has enjoyed the central role school gardens, community gardens and outdoor classrooms have played in her personal and professional lives. She and her husband, Gary, are strong participants in a local urban farm and are engaged in food justice solutions in the Denver area.
A devoted supporter of project-based learning, citizen science and arts in education, Vanessa brings a deep love of inquiry and creativity for global problem-solving and citizenship to our DCIS community and to our gifted students and their families.