DCIS Community Mural Kickoff Meeting – Wednesday, October 13, 2021
Posted October 6, 2021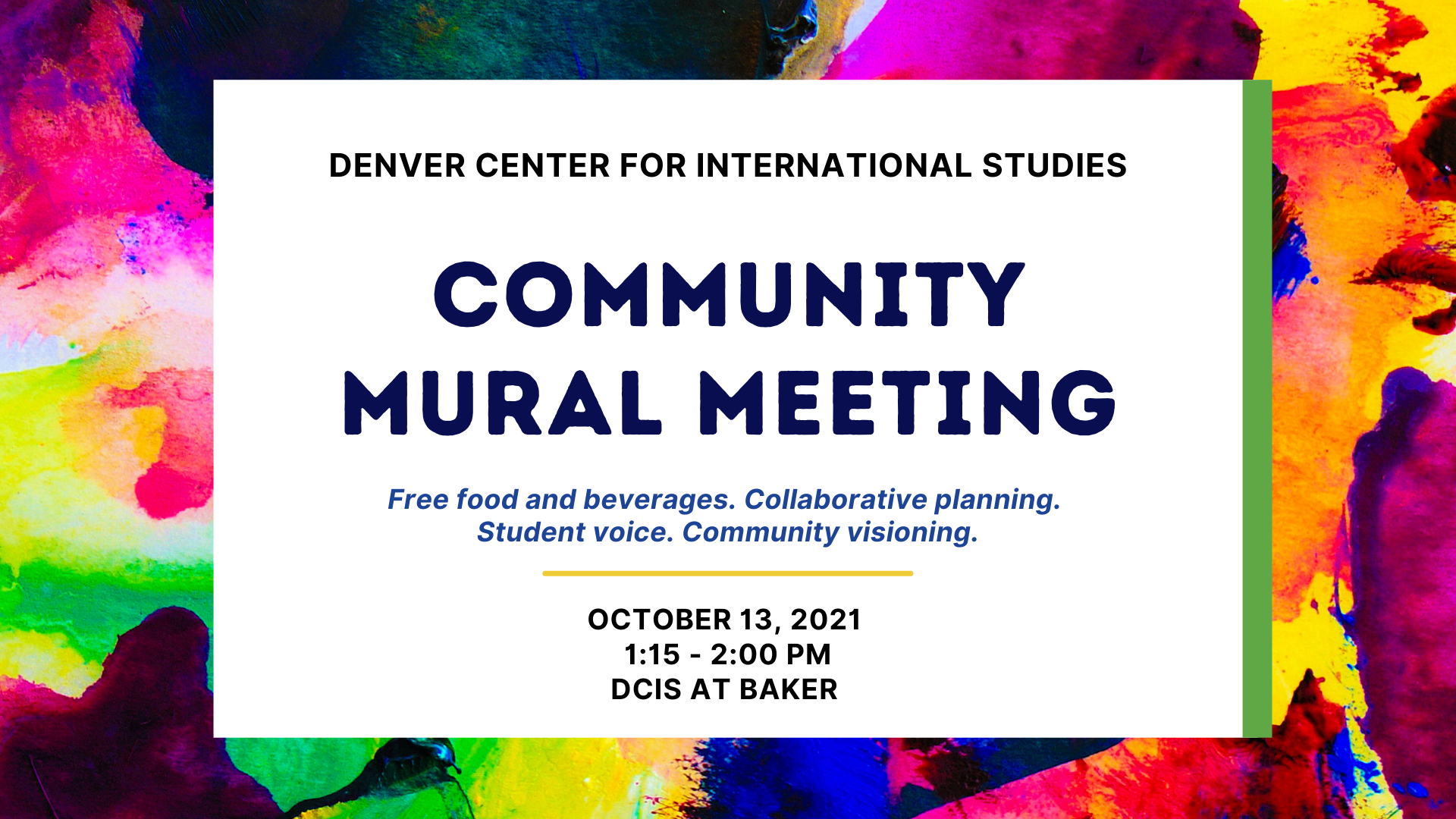 Local artist, Katy Casper, in collaboration with the Denver Center for International Studies (DCIS), will be leading a community mural project that reflects the school community, diversity, values, and mission.

We invite current DCIS students, families, staff, and alumni who would like to participate in this project to join us for our first kickoff meeting on Wednesday, October 13, 2021 from 1:15-2:00 PM.

Please RSVP here: https://bit.ly/DCISCommunityMural_Kickoff

Together, we hope to discuss what the project will entail and codesign a shared vision for the mural. At its core, we want this artwork to be representative of student voice and a community-generated expression. This mural will be painted on the east side of the DCIS building as a welcoming focal point for our community.

We hope to see you there!
—
La artista local, Katy Casper, en colaboración con el Centro de Estudios Internacionales de Denver (DCIS), será la líder de un proyecto de mural comunitario que refleja la comunidad escolar, la diversidad, los valores y la misión.

Invitamos a los estudiantes, familias, personal y ex-alumnos actuales de DCIS que deseen participar en este proyecto a que se unan a nuestra primera reunión inicial el miércoles 13 de octubre de 2021 de 1: 15-2: 00 p. M.

Confirme su asistencia aquí: https://bit.ly/DCISCommunityMural_Kickoff

Juntos, esperamos discutir lo que implica el proyecto y codificar una visión compartida para el mural. En esencia, queremos que esta obra de arte sea representativa de la voz de los estudiantes y una expresión generada por la comunidad. Este mural se pintará en el lado este del edificio DCIS como un punto focal de bienvenida para nuestra comunidad.

¡Esperamos verte ahí!