Is DCIS Right for You?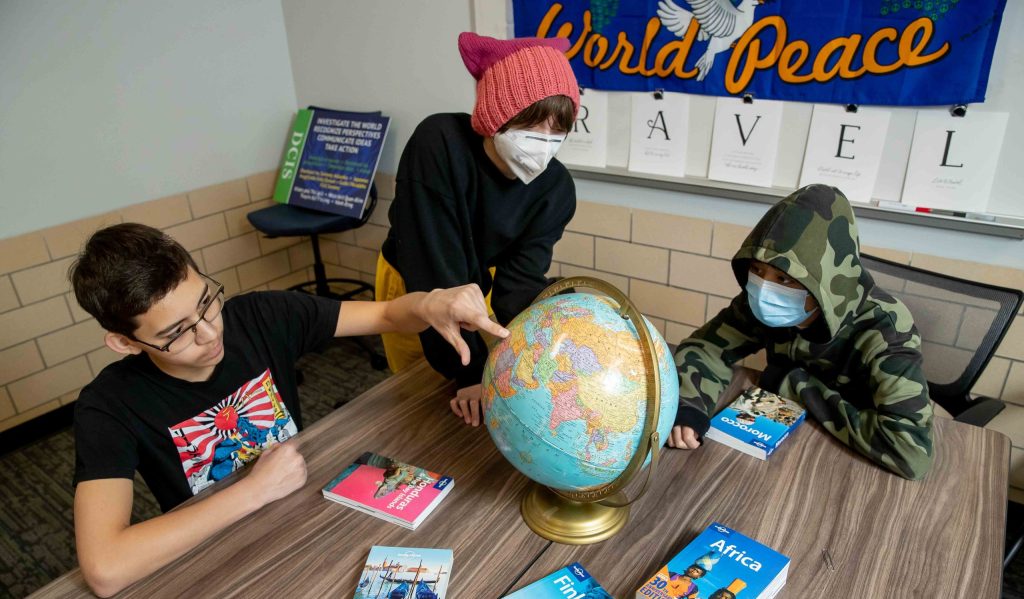 Being at DCIS for middle school and high school is a long time! So you want to make sure DCIS is a good fit.
DCIS could be the right school for you if…
… you are a lover of languages.
We offer Chinese (Mandarin), French, Italian, Japanese, Lakota and Spanish. We are not a language-immersion school, but we expect proficiency. Students complete a minimum of five consecutive years of study in one language if they join us in middle school, or four consecutive years if they join us in high school. Students can also study a second world language as an elective in high school.
As a Native American focus school, DCIS offers Lakota as a primary world language choice for Native American students and as an elective language for high school students.
… you want to develop a global perspective.
All of our students take two social studies courses each year, allowing them to explore a variety of perspectives on the past, present and future of our world. Additionally, we encourage our students to travel, and our DCIS Foundation can help students afford those trips whether they are stateside, national or international. We believe travel expands the mind in ways that classroom lessons simply can't, and immersion in culture and language is an important way to develop a global perspective.
… you want to take action to serve others.
Our students are required to complete both school and community service in both middle and high school. Students are encouraged to find ways to serve that resonate with them and do so through class projects, group projects, clubs and independently.
… you like the idea of a smaller, tight-knit community that feels like family.
Enrollment at DCIS varies slightly from year to year but is generally around 735 students, which works out to about 100 students per grade level. Our small size makes it really easy to get to know each other, and the 6–12 structure allows for mentorships between older and younger students and a smooth transition into high school. Both students and teachers say one of the things they most love about our school is the connections they foster throughout their seven years here.
What Sets DCIS Apart?
Like other district schools, DCIS has four core content areas: language arts, math, social studies and science. DCIS students also are required to take a world language and some additional coursework in international studies. All students take Advisement, and high school students take Passages, which are courses designed to enrich their learning experience and develop their leadership skills. Courses outside the core content areas are noted below.
Middle School
6th grade: Intro to World Languages
7th and 8th grade: world language of their choice
DCIS-specific second social studies class
Drama, art and physical education
High School
World language of their choice
Additional required global studies classes such as Passages and Connections
Electives (such as creative writing, film production)
Advanced Placement and concurrent enrollment college coursework (optional but highly encouraged)