Announcement: Community Donation for School PPE – Jan. 19, 2021
Posted January 19, 2021
---

January 19, 2021

We are grateful for the support from our DCIS community, and especially thankful for the organization and continued responsiveness of our Parent Teacher Student Association. Thank you all for the numerous donations and fundraising efforts. Due to your generosity, I'm pleased to announce that the community donation for personal protective equipment for our students and staff will purchase the following:
Eye protection for our staff members to meet their personal needs and helps maintain comfort and safety.
Surgical masks for our staff to have a daily supply of one surgical mask to protect and supplement their KN-95 mask each day.
Surgical masks for our students who are in-person – enough of one mask per in-person student per day for the remainder of the school year.
We are fortunate at DCIS to be able to provide this level of safety and PPE to our students and staff. We know that the surgical-style masks with wire nose fittings and triple-layer protection are both highly effective and also comfortable. We will provide one of these masks to each student who attends in person each day, unless they already have a comparable mask. We ask that we come together as a community to support our students with wearing these masks, recognizing that they are different from the personalized nature that cloth masks can provide.
These masks will be provided during your child's health-screening and check-in time each morning. As a reminder, the grade-level entrances are pictured below. If you have questions about your child's arrival and check-in time, please reach out to any DCIS staff member or click the link here. We appreciate your support of our efforts to have staff and students wear PPE that is the best we can provide, in our effort to keep our students and staff safe, as well as our greater Denver community.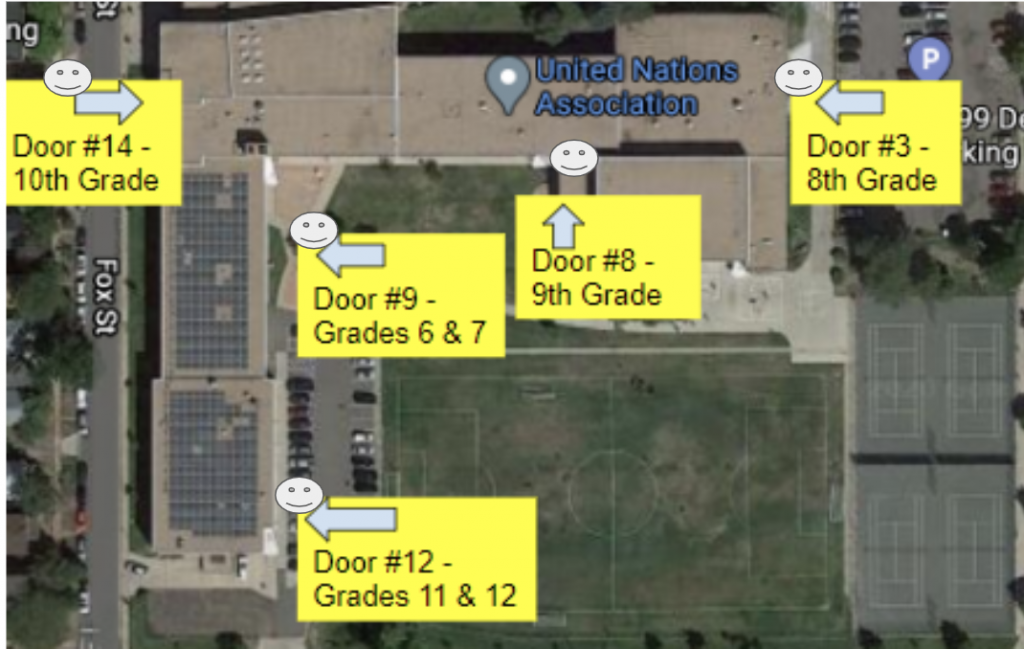 Sincerely,
Marisa Vasquez
Principal
marisa_vasquez@dpsk12.org


---

19 de enero de 2021
Estamos agradecidos por el apoyo de nuestra comunidad DCIS, y especialmente agradecidos por la organización y la continua capacidad de respuesta de nuestra Asociación de Padres, Maestros y Estudiantes. Gracias a todos por las numerosas donaciones y esfuerzos de recaudación de fondos. Debido a su generosidad, me complace anunciar que la donación de la comunidad para equipos de protección personal para nuestros estudiantes y personal comprará lo siguiente:
Protección ocular para los miembros de nuestro personal para satisfacer sus necesidades personales y ayudar a mantener la comodidad y la seguridad.
Mascarilla médica para que nuestro personal tenga un suministro diario de una mascarilla médica para proteger y complementar su máscara KN-95 cada día.
Mascarillas médicas para nuestros estudiantes que están en persona: una máscara por estudiante por día durante el resto del año escolar.
En DCIS somos afortunados de poder brindar este nivel de seguridad y PPE a nuestros estudiantes y personal. Sabemos que las mascarillas médicas con accesorios de nariz de alambre y protección de triple capa son altamente efectivas y también cómodas. Proporcionaremos una de estas máscaras a cada estudiante que asista en persona todos los días, a menos que ya tengan una máscara similar. Pedimos que nos unamos como comunidad para ayudar a nuestros estudiantes a usar estas máscaras, reconociendo que son diferentes y proporcionan más que las máscaras de tela.
Estas mascarillas se le proporcionarán durante el examen de salud de su hijo y la hora de registro cada mañana. Como recordatorio, las entradas de nivel de grado se muestran a continuación. Si tiene preguntas sobre la llegada de su hijo y la hora de registro, comuníquese con cualquier miembro del personal de DCIS o haga clic en el enlace aquí. Agradecemos su apoyo a nuestros esfuerzos para que el personal y los estudiantes usen el mejor equipo de protección personal que podemos proporcionar, en nuestro esfuerzo por mantener seguros a nuestros estudiantes y personal, así como a nuestra gran comunidad de Denver.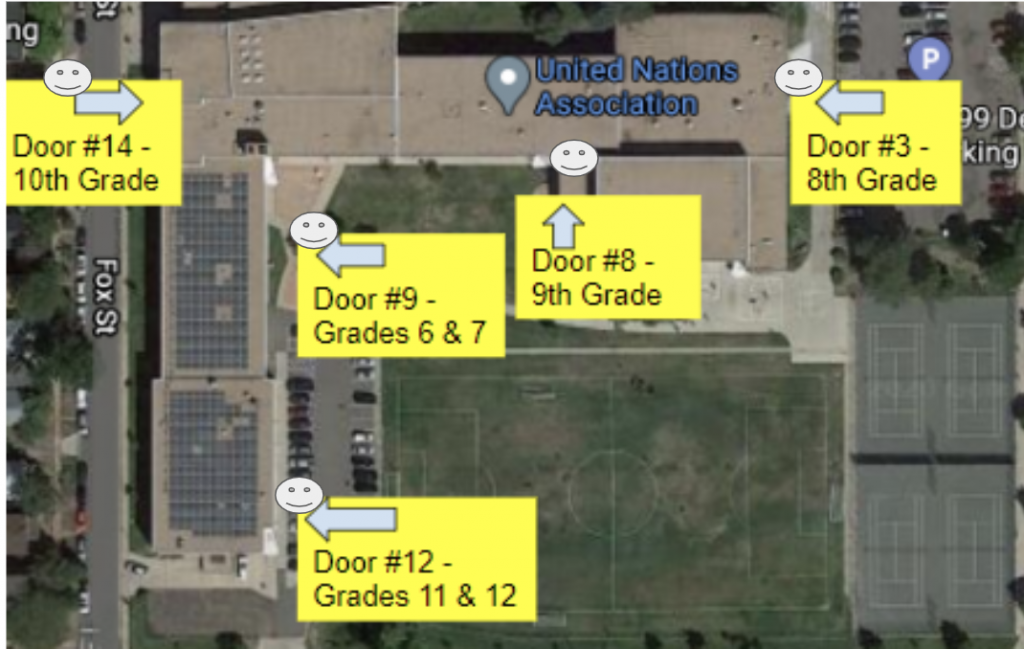 Sinceramente,
Marisa Vasquez
Directora
marisa_vasquez@dpsk12.org