DCIS Open House Tuesday 12/5!
Posted December 4, 2023
Dear DCIS Community,
We are thrilled to invite you to an enriching and informative experience at our upcoming Open House event! At the Denver Center for International Studies (DCIS), we believe in providing a unique and globally-focused education, and our Open House is the perfect opportunity for you to explore everything our school has to offer.
Event Details:
Date: December 5th, 2023
Time: 6:00 – 8:00 PM
Location: Denver Center for International Studies Baker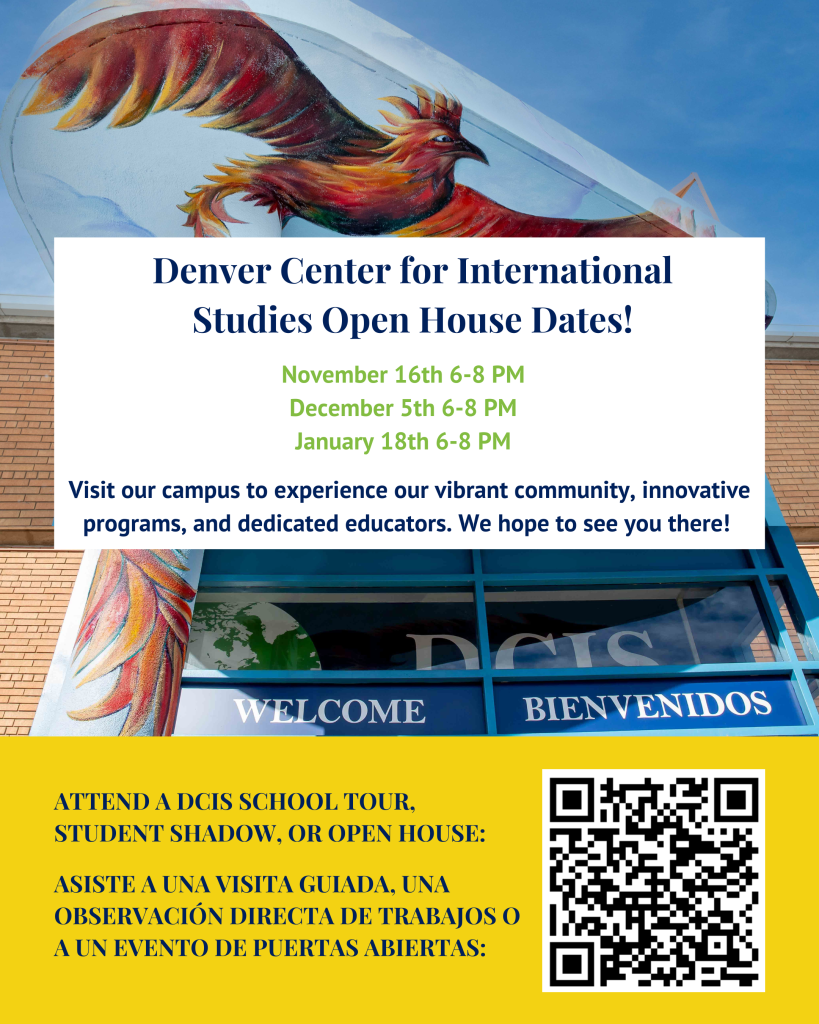 What to Expect:
Campus Tours: Take a stroll through our vibrant campus, where you'll get an inside look at our state-of-the-art facilities, classrooms, and specialized learning spaces.
Meet the Educators: Engage with our dedicated teachers and staff who are committed to providing a nurturing and challenging learning environment for our students.
Information Sessions from DCIS Students: Learn more about our innovative curriculum, specialized programs, and extracurricular activities that make DCIS a hub for global education.
Interactive Demonstrations: Experience firsthand some of the exciting and unique learning opportunities our students participate in daily.
Q&A Session: Have your questions answered by school administrators and educators who are eager to help you understand what sets DCIS apart.
Why Attend:
Global Perspective: DCIS is dedicated to fostering global citizens, and our Open House will showcase how we integrate global awareness into every aspect of our curriculum.
Community Engagement: Connect with other parents, students, and educators to build a sense of community within the DCIS family.
Explore Opportunities: Discover the diverse range of academic programs, extracurricular activities, and leadership opportunities available to students at DCIS.
Don't miss this chance to explore the world of learning that awaits your child at the Denver Center for International Studies. We look forward to welcoming you and showcasing the exceptional educational journey that DCIS offers.
See you at the Open House!
Warm regards,
Denver Center for International Studies