DCIS Passages Day – Jan. 15, 2021
Posted January 12, 2021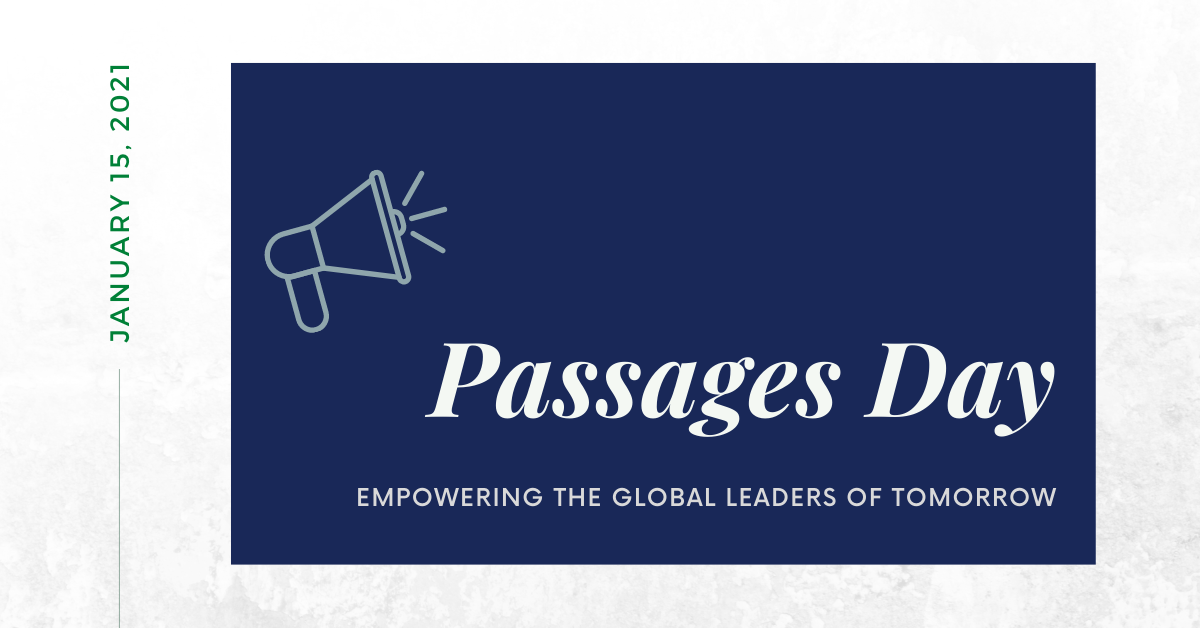 January 12th, 2021
Dear Denver Center for International Studies Families,
This Friday, January 15th, is Passages Day at DCIS. This is a day that exemplifies our school values related to student voice and choice. Since August, our 11th grade students have been working to write extensive research papers on topics of their choice. Guided by DCIS staff members, their focus has been to develop 30 minute educational presentations about their chosen topic. This Friday, our 11th grade students take the seat of the teacher and presenter in our school to present their presentations in front of their Passages Committee, students, and staff. This is an experience that a number of alumni have described to us as the most important part of their experience at DCIS.
Of course, these presentations will occur virtually this year and in slightly different formats than years past. This day is also an essential part of our 6-12 experience at DCIS. Our younger students who attend these passages may experience some inspiration through seeing the older students poise and confidence in their presentations. Students will select their passage day schedule in Advisement, and attendance will be taken in each session.
Our schedule is modified Friday to support this day and detailed below – please note that we begin and end in Advisement.
Passages Day Schedule for Friday, January 15th:
9:00 – 9:15 AM – Advisement for all students
9:20 – 9:50 AM – Session 1
9:50 – 10:00 AM – Break
10:00 – 10:30 AM – Session 2
10:30 – 10:40 AM – Break
10:40 – 11:10 AM – Session 3
11:10 – 11:20 AM – Break
11:20 – 11:50 AM – Session 4
11:50 – 12:30 AM – Lunch
12:30 – 1:00 PM – Session 5
1:00 – 1:10 PM – Break
1:10 – 1:40 PM – Session 6
1:40 – 1:45 PM – Break
1:45 – 2:00 PM – Advisement
We are so excited to learn from our juniors at DCIS on Friday! We welcome parents and guardians to attend these virtual presentations, and encourage you to do so if possible. If you have any questions about how to access this day, please contact any of us listed below for more information and support prior to Friday.
Sincerely,
---

12 de enero del 2021
Estimadas familias del Centro de Estudios Internacionales de Denver,
Este viernes 15 de enero, será el día de Pasajes en DCIS. Este es un día donde se puede ver con claridad los valores escolares de voz y elección de nuestros estudiantes. Desde agosto, los estudiantes del grado 11 han trabajado arduamente para escribir e investigar sobre temas de su elección. Guiados por por miembros de la facultad de DCIS, su enfoque ha sido en crear una presentación educativa de 30 minutos sobre el tema que hayan seleccionado. Este viernes, los estudiantes del grado 11 tomarán asiento de los maestros y podrán presentar los temas elegidos frente al Comité de Pasajes, estudiantes y empleados. Esta es una experiencia que varios estudiantes han descrito como uno de los momentos más importantes en su experiencia en DCIS.
Claro, estas presentaciones ocurrirán virtualmente este año escolar y es una forma diferente de años pasados. Este día también es esencial para la experiencia de DCIS de todos los estudiantes de grados 6 a 12. Esto ayuda a que nuestros estudiantes más pequeños puedan experimentar una experiencia diferente y que se puedan inspirar al ver a los estudiantes mayores presentar con confianza. Las hora de presentación será escogida durante la clase de Asesoría y asistencia será tomada en cada sesión.
El viernes, nuestro horario será modificado para apoyar este dia con los detalles siguientes – noten que tendremos clase de asesoría al comienzo y final del dia.
Horario del dia de Pasajes Viernes 15 de Enero:
9:00 – 9:15 AM – Asesoria para todos los estudiantes
9:20 – 9:50 AM – Sesión 1
9:50 – 10:00 AM – Descanso
10:00 – 10:30 AM – Sesión 2
10:30 – 10:40 AM – Descanso
10:40 – 11:10 AM – Sesión 3
11:10 – 11:20 AM – Descanso
11:20 – 11:50 AM – Sesión 4
11:50 – 12:30 AM – ALmuerzo
12:30 – 1:00 PM – Sesión 5
1:00 – 1:10 PM – Descanso
1:10 – 1:40 PM – Sesión 6
1:40 – 1:45 PM – Descanso
1:45 – 2:00 PM – Asesoría
¡Estamos muy emocionados en aprender de nuestros estudiantes del grado 11 este viernes! Queremos invitar a los padres o tutores a que visiten estas presentaciones virtuales y los animamos a que lo hagan si les es posible. Si tienen alguna pregunta como tener acceso ese día, comuníquese con cualquiera de las siguientes personas para obtener información y acceso antes del viernes.
Sinceramente,