Kevin Adams
Assistant Principal; Native American and Indigenous Programming; Travel Center Coordinator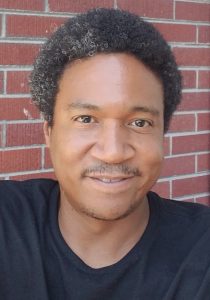 Email:
kevin_adams@dpsk12.org
Phone:
1-720-423-9023
Department(s):
Social Studies , Teachers
Kevin loves teaching at DCIS. He says the students are the best thing about the school, and his colleagues both inspire him and push him to be a better teacher. Kevin earned his B.A. in history from Metro State College and a Master of Arts in Educational Leadership and Emerging Technologies from Rocky Mountain College of Art and Design.
He was born in Atlanta, Georgia, but he and his wife, Birdalone, their son Tacari and daughter Sophia have been fortunate enough to call Colorado home since 1991. Kevin loves music, playing his guitar, and the Denver Broncos and Nuggets.
He also enjoys working in his garden and traveling. He's been to Canada, Mexico, Puerto Rico, Cuba, Costa Rica, England, The Netherlands, Spain and France, among others. His trip to Ghana in West Africa was a life-changing experience, as were the births of his children.
One of his favorite quotations is by Malcolm X: "Education is the passport to the future, for tomorrow belongs to those who prepare for it today."
Kevin loves meeting people and encourages all members of the DCIS community to drop by his room (201B) when they have a chance.