Sara Malnati
French Teacher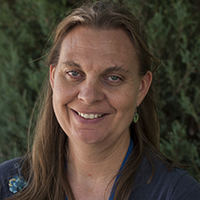 Email:
sara_malnati@dpsk12.org
Phone:
1-720-423-9012
Department(s):
World Languages , Teachers
Sara Malnati is our French teacher. Her enthusiasm for travel and world languages began at seventeen when she traveled to France for a three-week school trip. After graduating from high school, Sara did a gap year in Lyon, France where she lived with three host families and attended a lycee (high school). This experience was by far one of the most important learning experiences of her life.
In college, Sara participated in a service learning program called INVST. In this program, she learned about various issues in social justice and engaged in numerous volunteer projects, including building homes and learning about the culture of the Navajo nation, working in soup kitchens and learning about homelessness in Denver, and serving a community in need and learning about border issues in Mexico.
Sara has been teaching French and ESL for the past fifteen years. She loves teaching; while the mornings are early, her students give her the energy she needs to do the best job she can. She hopes to inspire her students to travel the world, learn new languages and serve their communities. She is thrilled to be teaching French here at DCIS!