Virgilio San Andres
Special Education Teacher (high school)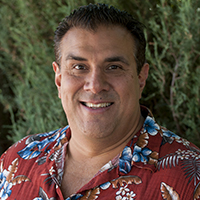 Email:
virgilio_sanandres@dpsk12.org
Phone:
1-720-423-9084
Department(s):
Special Education , Teachers
Virgilio San Andres (Mr. V) is from New Orleans and has been in Colorado since 1996. He earned a B.A. in psychology from the University of New Orleans and a special education degree from Metropolitan State College.
He has a passion for special education and loves working in such a diverse 6-12 school. Virgilio believes that every student has a "golden mean" and that it's up to every teacher to find it.
In his free time, Virgilio enjoys playing and designing board games and tinkering with old cars. He has two children.